Job Opportunity: Associate Consultant Analyst – July/August 2022
Webster Pacific LLC is looking for an intelligent, eager and energetic person to work as an Associate Consultant Analyst (AC Analyst) for 1 to 2 years and then grow into a Managing Consultant.  The responsibilities for this position will include strategic research, analysis, and general problem solving for clients.  The AC Analyst will work "in the weeds" on complex data analysis for 1 to 2 years while being coached on strategic thinking, client management, and people management.
Webster Pacific is a rapidly growing strategy consulting firm focused on financial, marketing, operations, and geospatial analysis. Recent projects have included cash flow modeling, profits optimization, return on advertising spend (ROAS) analysis, return rates analysis, inventory planning analysis, ERP migrations, and private school site selection. Case studies can be found on the Webster Pacific website.
Core consulting responsibilities:
Analyze data using spreadsheets, Python, and business intelligence software

Build and maintain complex models

Research to support client problem solving

Iterate on analyses with other Webster Pacific analysts and managers

Present information in a coherent and compelling manner
Anticipated start date is July/August 2022:
Webster Pacific has offices in downtown San Francisco and Chicago. This position will be based in Chicago and the AC Analyst is expected to work from the Webster Pacific Chicago office 2 to 3 days per week. . Applicants should address their cover letter and resume to Steve Bazant, a Principal at Webster Pacific, (steve@websterpacific.com).
The ideal candidate:
Has experience and interest in spreadsheets and Python (SQL experience a plus)

Has a degree in engineering, finance, math, or science or has demonstrated technical capabilities

Is a recent college graduate or has 1 to 2 years of industry experience

Is smart and detail-oriented

Is confident, courageous and curious

Is service-minded and a team player

Is capable of managing several projects at a time
For more information on Webster Pacific, see https://www.websterpacific.com.
Example project description:
In our consulting work, regardless of the scope of work, we try to think like owners, keeping the best interests of our client's business at heart when performing any analysis. One way we do this is by identifying where on a profit and loss (P&L) statement our work is impacting the business. See below sample P&L for a common ecommerce fashion retail business as a reference to visualize where our projects would impact profitability. Projects that an AC Analyst might work on include:
In the finance world:

budgeting to predict profitability

cash flow modeling to better understand future cash needs to cover inventory costs – with seasonal businesses, inventory places huge strain on cash as businesses need to put large down payments months ahead of when the inventory will arrive and cash will be returned through product sales

debt analysis to help clients model when payments will be made and to understand what interest rates are possible to maintain profitability

In the marketing world:

discounts and promotions analysis to identify ways to decrease discounts offered to customers while maintaining conversion and average order value

return rates analysis to identify ways to decrease customer returns by analyzing product mix, exchange offers, and website content adjustments

paid marketing analysis to better understand return on advertising spend (ROAS) and ways to drive customer retention (repeat rates)

In the operations world:

inventory modeling to predict when and how much to order, using historical sales rates, growth trends, sizing distributions, inventory on hand, and inventory ordered

negotiating with manufacturers to get to an inventory cost that allows for enough product margin to be profitable

In the geospatial world:

mobile data analysis to visualize, for example, how customers travel within a shopping center

zip code sales penetration analysis to better understand locations to target with marketing efforts

wholesale account scraping analysis to benchmark client performance against competitors to understand to which stores the client should be selling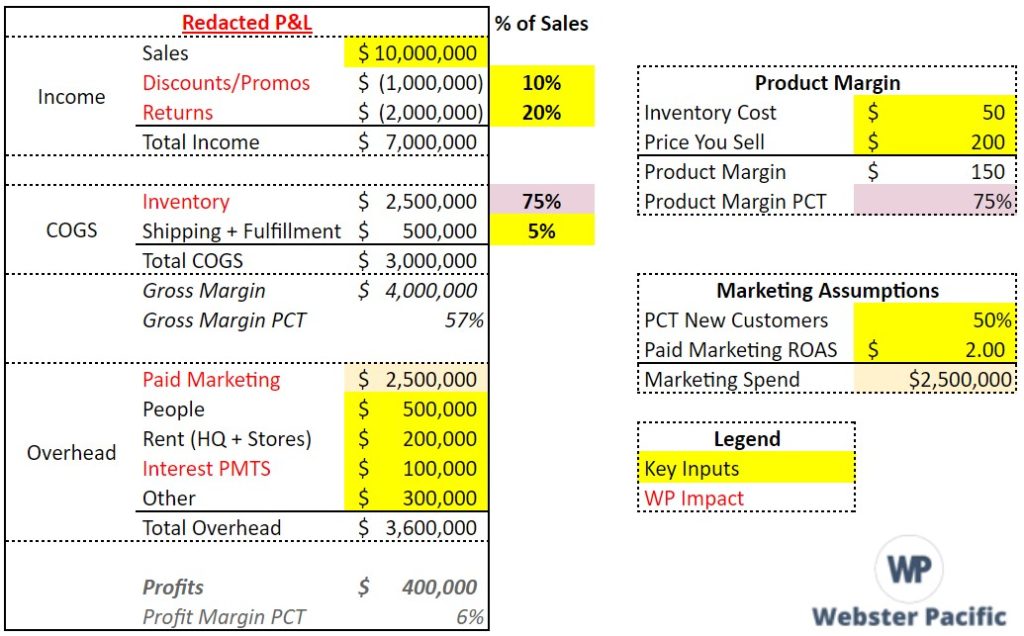 Date Posted: 05/28/22